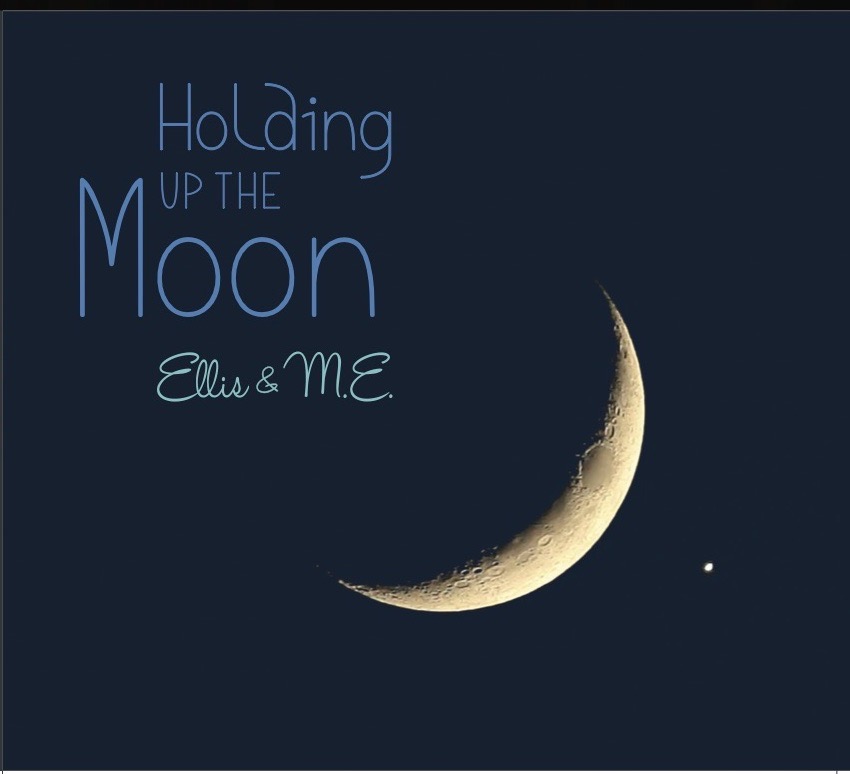 Also find us on Amazon Music, Pandora, Shazam
To order a CD
please send an email to Catherine
[email protected]
Holding Up The Moon is a collection of songs offering balm for worried minds and restoration of the spirit. Conceived during a worldwide pandemic, the project began as a virtual performance for Michigan State University's Rest With Music concert series.
Produced by Ian Gorman and Ellis & M.E.
Recorded by Ian Gorman at La Luna Recording and Sound
Assistant Engineer Claire Horn
Mixed by Ian Gorman & Ellis & M.E.
Mastered by Samuel Peters
Photography by Kendra Stanley-Mills
Designed, printed, pressed, and packaged by Oasis Disc Manufacturing
Ellis & M.E.
Catherine Ellis, lead and harmony vocals and acoustic guitar
Alma Muxlow, lead and harmony vocals, mandolin, & mandola
Bob Elkins, acoustic guitar

Guest Artists Bud Michael, harmony vocals (13) and acoustic bass (9,13) ; Carol Levack, harmony vocals (8,10)
©2021 Ellis & M.E. All rights reserved.
Track List
Ain't Misbehavin' Andy Razaf, Thomas (Fats) Waller, Harry Brooks
Xavi's Welcome Bob Elkins In celebration of the birth of my grandson, Xavi Francisco.
I Knew Paris Catherine Ellis "I sailed the Seine again in the moonlight."
The Watchman Bob Elkins & Catherine Ellis Inspired by Bob's dear friend, the late Guy Gutkowski. Through grief lies hope.
Dona Nobis Pacem Traditional
The Waves of Kilkee Joanie Madden & Brian Keane
In A Promised Land Bob Elkins In honor of the victims of the 1921 Tulsa massacre.
Blue Boat Home Peter Mayer/Roland Huw Prichard
Listen To My Heart Catherine Ellis Best intentions are seldom spoken.
Irises are Glowing Catherine Ellis Sunset, a summer day, on Barton Lake
Bienvenido Felix Bob Elkins In celebration of the birth of my grandson, Felix Robert.
Last Time I Saw Home John Pell
Leave A Little Light Nancy Reinhold
Reviews
"What lovely and loving music"
Marybeth, Grand Rapids, MI
"I marvel at your beautiful talent and what you have been able to create together"
Candace, Kalamazoo, MI
"And the MUSIC…a great listen."
Tom, Franklin TN
"Just a quiet night at home enjoying for the thousandth time 'Holding Up The Moon!…Fine work, so soothing.
Jon, Montague, MI
IT IS FANTASTIC…….each song so warm and such depth. Special for sure! "Balm" for the worried mind-fits the description.
Jennifer, Watervliet, MI
I love it. Such a great blend of voices and instrumentals. Your instrumentals are outstanding. Be proud!
Bill, Cape Coral, FL
Let me join the chorus of folks who like your CD. On Christmas weekend, we drove to Detroit. We listened to it all the way from Holland to Detroit and then back again. I like the way the mix of songs is set up. The calming acoustic tunes mixed in with the relaxing folky pieces…
Bill, Holland MI
I love it. Perfect to enjoy while sitting in front of a fire on a cold winters night. Congrats to Bob, Catherine, and Alma on an excellent production.
Mary Ann, Lansing, MI
Your music has been a soothing balm.
Johnny, Ann Arbor, MI
"Drop your virtual needle anywhere in this collection and you'll discover the magic that friendship and three artists can conjure." - John Thomas, Field Editor for Fretboard Journal and author of Kalamazoo Gals: A Story of Extraordinary Women & Gibson's "Banner" Guitars of WWII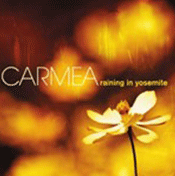 Carmea : Raining in Yosemite
Track List
1. Circle of Love (Catherine Ellis © 2008)  This song was born through the nurturing guidance of Pat Humphries and Sandy O of emma's revolution, under a shade tree in the warmth of an August sun.
2. Dona Nobis Pacem (Grant Us Peace) (Traditional)
3. Swimming to the Other Side  (Pat Humphries © 1990, 1992 , Moving Forward Music, BMI  www.emmasrevolution.com ; Descant by Lui Collins © 2000)
4. Raining in Yosemite (Alma Muxlow © 2009)  Lady Justice, depicted as a blindfolded woman holding measuring scales, came alive for me as I wrote this song. It was a response to the passage of Proposition 8 in California and Kalamazoo's struggle to add sexual orientation and gender identity to the city's non-discrimination ordinance. (Thanks to Rachel and Jane for the first two lines.)
5. On the River (Catherine Ellis © 2008)  With love to my sister and brother-in-law in celebration of their 40th wedding anniversary on the St. Joseph River.
6. I've Got a Gal in Kalamazoo  (Words by Mack Gordon & Music by Harry Warren © 1942)
7. The Waves of Kilkee  (Joanie Madden, Wood Park Publishing BMI & Brian Keane, Brian Keane Music ASCAP © 1999)
8. The Red Motorcycle (Catherine Ellis © 2009)  This is my favorite story from Alma's childhood. At three, with a lone penny in her pocket, she decided to walk five miles into town to buy a real motorcycle. Her mother saw her head bobbing above the July corn just in time to intervene.
9. Dance (Rachel Alexander © 2004, 2008)  In 2004 Michigan voters passed a constitutional amendment defining marriage as being between one man and one woman. Outraged and deeply saddened, I wrote this song. Jane and I were married in California in October of 2008, shortly before the passage of that state's Proposition 8 made same-sex marriages once again illegal in California.
10. Angels Surrounding You (Catherine Ellis © 2009)  Often we are unaware of the blessings that await to carry us through adversity. This song is an expression of gratitude to all who delivered meals to our door and listened deeply to my experience during my recovery from cancer in 2005. (Happy Birthday, Karen HG.)
11. Long Way Out of Chicago (Alma Muxlow © 2006)  It took me a long time to find my Gibson H-1, which was made in Kalamazoo in 1912. When I brought it back home to Kalamazoo it seemed to shiver with a song, and this is it.
Album Credits
Catherine Ellis lead & harmony vocals & guitar

 Alma Muxlow lead & harmony vocals, mandola & percussion
Rachel Alexander lead & harmony vocals, cello, fiddle, melodica, soprano recorder, train whistle & percussion
David Mosher acoustic bass ( 1, 6 & 11), mandola (4 & 11), mandolin (7) & guitar (9)
Carol Levack harmony vocals (3)
Bud Michael acoustic bass (10)
Produced by David Mosher & Catherine Ellis
Recorded and mixed by David Mosher at By the Lake Studio, Brighton, MI
Mastered by Geoff Michael at Big Sky Recording, Ann Arbor, MI
Manufactured at Oasis Disc Manufacturing, Delair, NJ
Carmea logo by Jane Cera
Carmea photography by Classic Concepts Studio, Durand, M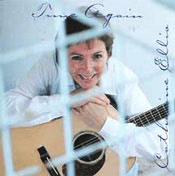 Time Again
(Catherine Solo)
Track List
1. Doris & Marshall
2: Mackinac Island Song
3: Time Again
4: Bye Bye Blues
5: Last Night
6: Love Is No Currency
7: Daylight
8: Magic
9: I Lost My Watch
10: Time Stood Still
11: This Melody Of Love
12: The Next Time
13: I Knew Paris
14: Angel Of God
15: Walk With Your Heart
Album Credits
Bud Michael: acoustic bass and vocals
Carol Levack: harmony vocals
Joel Mabus: mandolin and acoustic guitar
Tim Scheerhorn:resonator guitar
Ron McKeever:  acoustic guitar
Pooh Stevenson:mandolin and cello
Alma Muxlow: mandolin and harmony vocals
Mary Gurd:  piano
Robert McCloy:  classical guitar
All songs written by Catherine Ellis, except Mackinac Island Song (Candace Corrigan) and Bye Bye Blues (Fred Hamm, Dave Bennett, Burt Lown, and Chauncey Gray) Produced by Catherine Ellis and John Stites Recorded, mixed, & mastered by John Stites at Arcadia Recording, Kalamazoo, MI Graphic Design by John Townsend Photography by Keith Mumma Manufactured by Oasis, Flint Hill, VA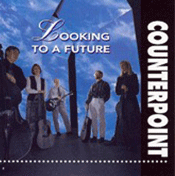 Looking to a Future with Counterpoint
Track List
(I've Been) Looking to a Future Catherine Ellis/Robert McCloy
Huron Mist Kevin Gaugier
Four Strong Winds Ian Tyson
Lady Be Good George & Ira Gershwin
I Will John Lennon/Paul McCartney
SanFrancisco Bay Blues Jesse Fuller
Lyle's Song Catherine Ellis
Big Mon Bill Monroe
Song for a Winter's Night Gordon Lightfoot
Morning Sky Dan Fogelberg
Dingman's Falls   Tim Scheerhorn/Kevin
Gaugier Galileo Emily Saliers
Album Credits
Recorded at Brown & Brown Studios, Kalamazoo, MI
Engineered by Kevin Brown
Mastered by David Glasser at Airshow, Inc., Springfield, VA
Produced and mixed by Counterpoint
Photography by Bob Cook
Design and Art Direction by Scott Scheerhorn
All copyrighted material used by permission.
Looking To A Future includes Catherine on acoustic guitar and vocals, Kevin Gaugier on acoustic guitar, banjo, and vocals,  Bud Michael on acoustic bass and vocals, Tim Scheerhorn on resonator guitar, Pooh Stevenson on mandolin and cello, and Carol Levack on harmony vocals.